Moving the school body between pedagogy and architecture
Abstract
Professional identity is central to the issue of teachers' professionalism: "One
teacher's professional identity should not be thought of exclusively in terms of social relations occurring on the job nor it should be regarded as her internalization of prearranged behavioural norms and rules, since professional identity results from one individual's psychological dimensions, as well as her social ones" (Dilts, 1997, p. 23).
This profession's core is now changing as a result of the new institutional and cultural contexts in which it takes place. The teacher faces challenges: on the one hand, she confronts herself with the professional values and ethics belonging to the wider class of caring profesions; on the other hand, she is lead to interact on four different identity levels: personal identity (self-relation), social identity (relation with others), professional identity (professional practices and competences), union identity (with regards to a practicing community).
After paradigmatic break up with the prescriptive and model-based training of
teachers, what kind of competences-driven curriculum should be implemented in
order to assure the development of teachers' professionalism? Which hybrid apparatuses should be set up in order to allow the best capabilities to emerge?
This paper's contribution to these issues concerns teachers' lifelong training, both pre-service and in-service. Furthermore, pre-service training is analysed because it is the key stage that determines all subsequent training approaches. As a conclusion, Cooperative Learning is acknowledged as the necessary practice to be implemented in teachers' pre-service and in-service training.
The metaphor of the body uncovers a number of ways in which a cross-disciplinary approach between the two fields of architecture and pedagogy could promote a learning environment of wellbeing in the design of educational facilities. By imagining the school as a body, the school is posited as a whole, living organism, whose constituent parts need to work together to achieve a healthy balance . Wellbeing is also attributed to the capacity of an individual to adapt to challenges and this statement could arguably hold true to buildings themselves. As such, the resiliency of schools in the face of radically shifting pedagogical models are also discussed.
By tracing the physical dimension, or that which is corporeal, in the architecture
and the pedagogical content in schools, the remarkable commonalities between
the two disciplines come to light and provide interesting insight into how changes in didactic practices can affect the school buildings and vice versa.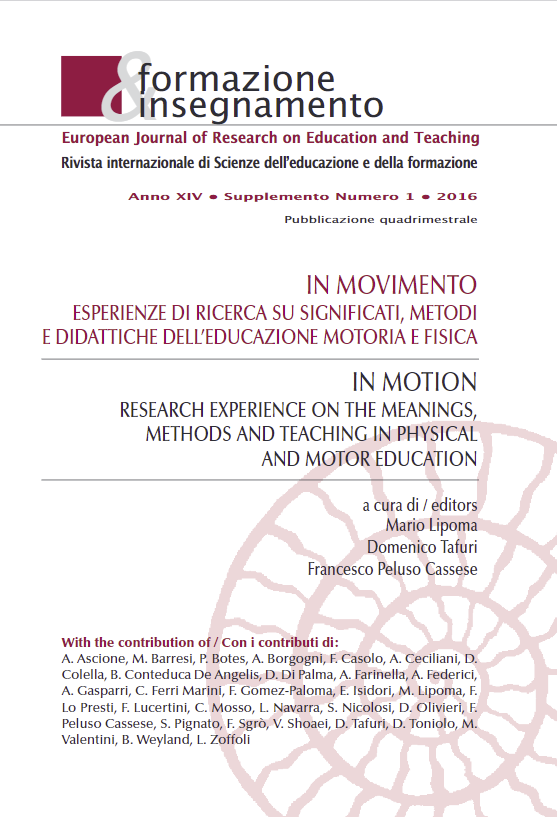 Downloads
How to Cite
Weyland, B. (2017). Moving the school body between pedagogy and architecture. Formazione & Insegnamento, 14(1 Suppl.), 107–118. Retrieved from https://ojs.pensamultimedia.it/index.php/siref/article/view/1883