Singing is what we do (together) - redefining "together". A comparative study
Abstract
This article discusses the impact of the Covid-19 pandemic on singing with children in schools by providing a descriptive analysis of a comparative look at children's experiences of their singing habits and emotional well-being during the first Covid-19 lockdown. Covid-19 has (for now) established itself as a ubiquitous variable in our daily lives. This paper provides a descriptive analysis of a comparative study on the impact of Covid-19 lockdown (s) on children's singing habits and emotional well-being in Italy, Austria and Fin-land. A survey was conducted among children and adolescents aged 10-20 years from Austria, Finland, and Italy to determine how the Coronavirus lockdown has affected their daily lives and general well-being. In addition, age, gender, and emotional reaction to the change in singing habits before and after the Covid-19 lockdown were analysed. Until it is certain that rehearsals and communal singing can take place without health risks, alternative options should be explored to plan online teaching in the future effectively. It is hoped that this study, which is only a beginning, will stimulate further research on this topic and contribute to the development of systems and platforms where children can continue their educational and music educational growth by ensuring an uninterrupted singing experience.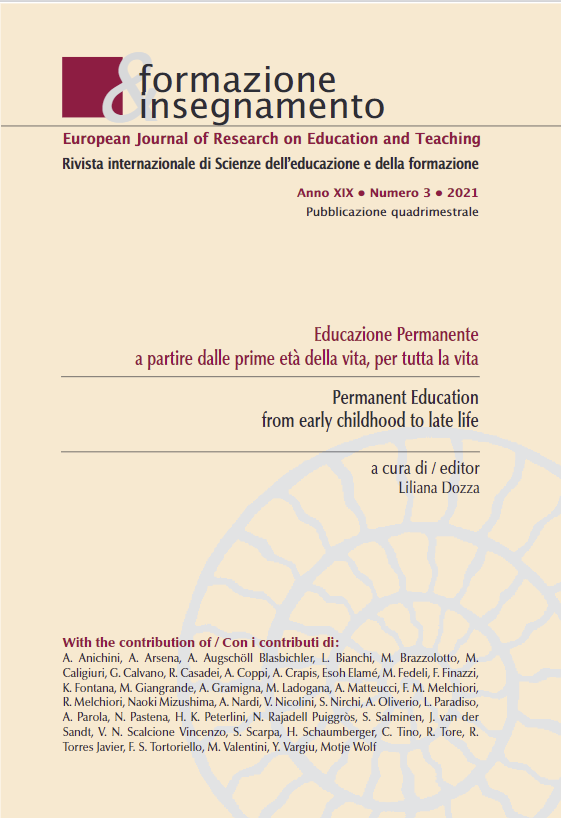 Downloads
How to Cite
van der Sandt, J., Schaumberger, H. ., Coppi , A. ., Salminen , S. ., & Wolf , M. . (2021). Singing is what we do (together) - redefining "together". A comparative study . Formazione & Insegnamento, 19(3), 028–054. https://doi.org/10.7346/-fei-XIX-03-21_03
License
Copyright (c) 2022 Pensa MultiMedia
This work is licensed under a Creative Commons Attribution 4.0 International License.
Formazione & insegnamento is distributed under Attribution 4.0 International (CC BY 4.0).
For further details, please refer to our Repository & Archiving Policy, as well as our Copyright & Licensing Terms.