The coronavirus emergency as check of teachers' digital skills. Investigation on previous in-service training
Abstract
The COVID-19 emergency has accelerated the transformation of teaching practices; it turned out to be a painful, but useful, opportunity to test the digital skills of teachers.
After some reflections on the effects of the COVID-19 emergency on the current effects of the 'knowledge society' – see 'digital divide' – and on the related training of school teachers – see complex skills, setting up environments learning –, the contribution presents the results of a survey that involved 108 teachers in service. It aimed at knowing, in general, the perceptions of teachers regarding the distance learning technologies used during the pandemic and, specifically, to verify whether the previous training had or did not have a specific weight on the didactic intervention criteria adopted in the COVID-19 period.
The analysis showed that: the 'students' factor was assumed as the main criterion for the adaptation of teaching activities; the type of previous training - on digital skills and in the implementation of learning environments - seems to have a specific weight on the criteria of didactic intervention. If confirmed through further investigations, the study would offer valid arguments to support the effectiveness of teacher training interventions, grades to recover the specific digital divide.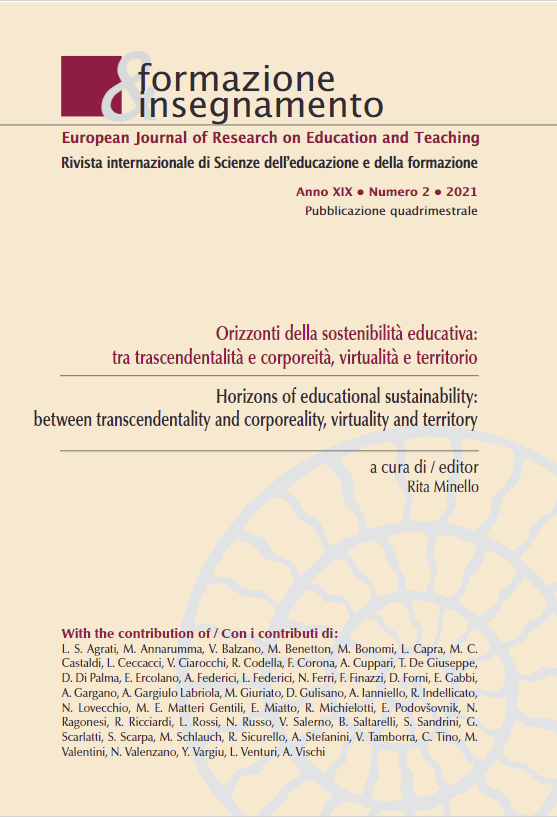 Downloads
How to Cite
Agrati, L. S. (2021). The coronavirus emergency as check of teachers' digital skills. Investigation on previous in-service training. Formazione & Insegnamento, 19(2), 179–192. https://doi.org/10.7346/-fei-XIX-02-21_17
License
Copyright (c) 2021 Pensa MultiMedia
This work is licensed under a Creative Commons Attribution 4.0 International License.
Formazione & insegnamento is distributed under Attribution 4.0 International (CC BY 4.0).
For further details, please refer to our Repository & Archiving Policy, as well as our Copyright & Licensing Terms.