Towards a society of generational interchange
Abstract
A period life that deserves the educational attention more than other periods doesn't exist because the entirety of the human being and his period enter in the educational horizon; in every moment of his life, the person can be "formed", therefore, he can be put in the condition to reach his fullness of human being through many experiences and different cultures obtained by the childhood social world until old age. Continuously every person realizes his humanity (Bertolini, 2003) in order to a cyclical trajectory (Demetrio, 1990) that stands out a continuity of his development,
of his change, during his life. Twenty years after Rapporto Delors (1997)
the promotion of life long learning remains one of the foundations of a planning
that puts at the heart the person and his entirety as well as the concept according to that every human being learns to be citizen of the world in his entirety. The education, understood by J. Delors (1997), has the essential task to create a "living together" in the global village since the awareness of a social and community living to which we belong for natural collocation (p. 13). So that "that will of participation" is instilled (Delors, 1997, p. 15), it is necessary co-build a sense of responsibility of everybody and a democratic feeling.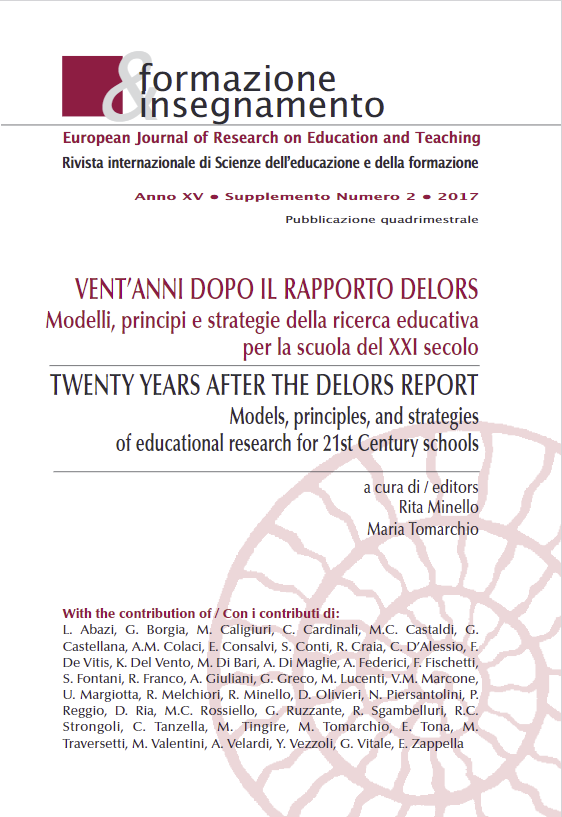 Downloads
How to Cite
Rossiello, M. C. (2017). Towards a society of generational interchange. Formazione & Insegnamento, 15(2 Suppl.), 333–342. Retrieved from https://ojs.pensamultimedia.it/index.php/siref/article/view/2607
License
Copyright (c) 2017 Maria Concetta Rossiello
This work is licensed under a Creative Commons Attribution 4.0 International License.
Formazione & insegnamento is distributed under Attribution 4.0 International (CC BY 4.0).
For further details, please refer to our Repository & Archiving Policy, as well as our Copyright & Licensing Terms.