Philosophy for Community for lifelong learners
Abstract
This contribution aims to take stock of the state of adult education, having noticed a number of contradictions inherent in the lifelong student model: we are expected to be critical, aware, flexible, responsible and proactive in the face of existential conditions of perpetual uncertainty so that perceptions of inadequacy and/or worthlessness are evoked within us. Foucault's "knowledge/power" binomial provides us with an interpretation of the possibilities and inseparable duties involved in lifelong learning. I propose to explain – with Lipman – why the acquisition of newer and newer skills is not sufficient for our professionalisation, or even for our personal development.
The cultivation of thought practices is a cross-sectional instrument appliable to all knowledge and all skills that enable people to navigate the world. My proposal, therefore, is that emancipatory growth can be promoted by philosophical dialogue practiced in the Inquiry Community using the Philosophy for Community methodology.
A pilot study carried out by myself at an adult education center has confirmed
the validity of this approach, raising new questions with respect to how it
might be extended. The participants' feedback of the experience is extremely encouraging, and, it is to be hoped that philosophical dialogue may penetrate educational contexts to foster personal development in its many aspects.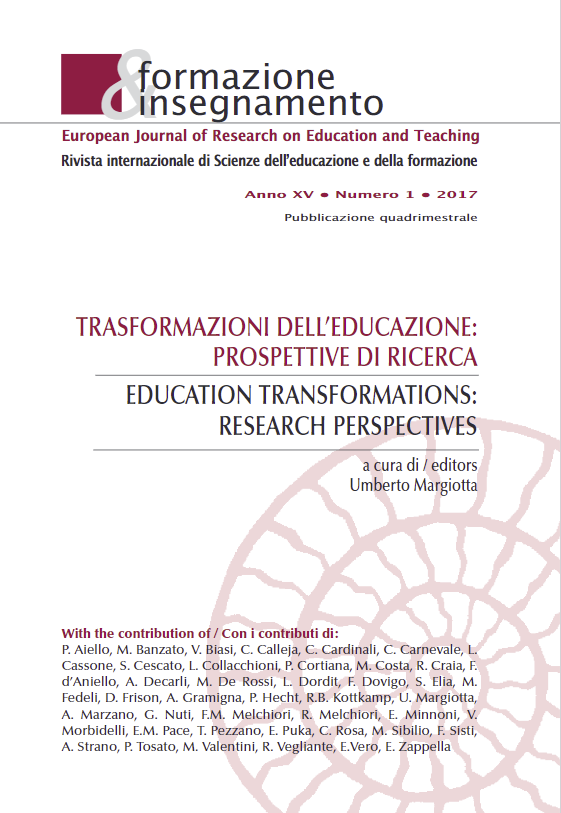 Downloads
How to Cite
Decarli, A. (2017). Philosophy for Community for lifelong learners. Formazione & Insegnamento, 15(1), 179–192. Retrieved from https://ojs.pensamultimedia.it/index.php/siref/article/view/2173
License
Copyright (c) 2017 Annalisa Decarli
This work is licensed under a Creative Commons Attribution 4.0 International License.
Formazione & insegnamento is distributed under Attribution 4.0 International (CC BY 4.0).
For further details, please refer to our Repository & Archiving Policy, as well as our Copyright & Licensing Terms.