Effective Mediation: an experimental study in regular school on theapplication of Mediation and Feuerstein Instrumental Enrichment Program
Abstract
This study explores the effects of a cognitive education approach based on mediation, as intended in the Reuven Feuerstein Structural Cognitive Modifiability theory, applied in the context of educational activities in regular
school. We assessed the effects of the systematic application of the Instrumental Enrichment Program (IE) on the development of cognitive functions underlying flexible thinking and problem solving behaviour.
The research was carried out by the Authorized Training Center ARRCA NOVA, together with a group of teachers working in the public school system of the Treviso area during the 2012-2013 school year. The study involved 11 experimental groups (school classes) and 9 control groups, ranging from kindergarten to 6th grade (first year of Middle school) for a total of 364 students, covering 40-42 hours of activities. Among the tests applied, the most meaningful results came out of the Raven Matrices, where the experimental
groups show a greater statistically-significant improvement. This suggests that students working with the IE Program display more flexible thinking and problem-solving behaviour in new situations, irrespective of previous
knowledge. Results emerging from more strictly academic tests are more ambiguous and will require further investigation. An additional relevant result of the research emerges from the written evaluations of the teachers involved with
the experimental groups, reporting deep changes in their own behaviours and professional approaches and bringing about a high-quality inclusive education.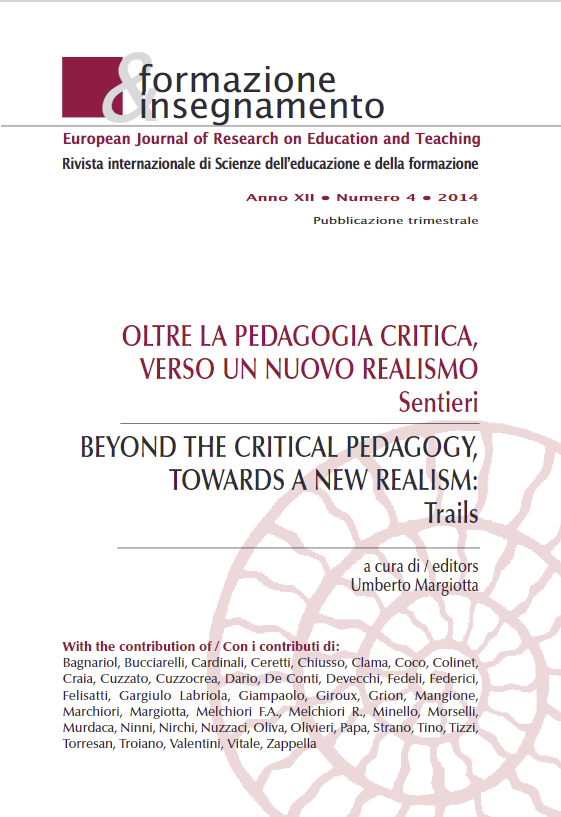 Downloads
How to Cite
Papa, L., Cuzzato, M., & Clama, L. (2014). Effective Mediation: an experimental study in regular school on theapplication of Mediation and Feuerstein Instrumental Enrichment Program. Formazione & Insegnamento, 12(4), 329–350. Retrieved from https://ojs.pensamultimedia.it/index.php/siref/article/view/1630
License
Copyright (c) 2014 Lucia Papa, Maria Cuzzato, Luigi Clama
This work is licensed under a Creative Commons Attribution 4.0 International License.
Formazione & insegnamento is distributed under Attribution 4.0 International (CC BY 4.0).
For further details, please refer to our Repository & Archiving Policy, as well as our Copyright & Licensing Terms.