Different definitions of the concept of "improvisation" in language teaching: expertise, production and technique
Abstract
In the realm of education and, more specifically, language teaching, the term improvisation has multiple meanings: it refers to various things, the dividing lines between which tend to become somewhat blurred.
In primis, the term refers to a behaviour on the part of the teacher, who arrives unprepared. It may also, by contrast, refer to an expert who employs artistry to draw upon the vast repertoire of scripts and procedures at his disposal to offer an instant and effective response to the problem at hand. Referred to language students, improvisation may represent, in a broad sense, written/oral production aimed at conveying meaning (it is not a question of replicating linguistic patterns). Strictly speaking, however, improvisation refers to a specific technique used in the dramatic arts, which has become widespread in a number of educational and training contexts in recent years. Indeed, Impro or Improv has gained growing interest as a teaching resource in Italy and abroad. After briefly considering its history, this essay is intended to analyse the characteristics of this dramatic technique in the context of actor
training, before deducing certain implications for language teaching.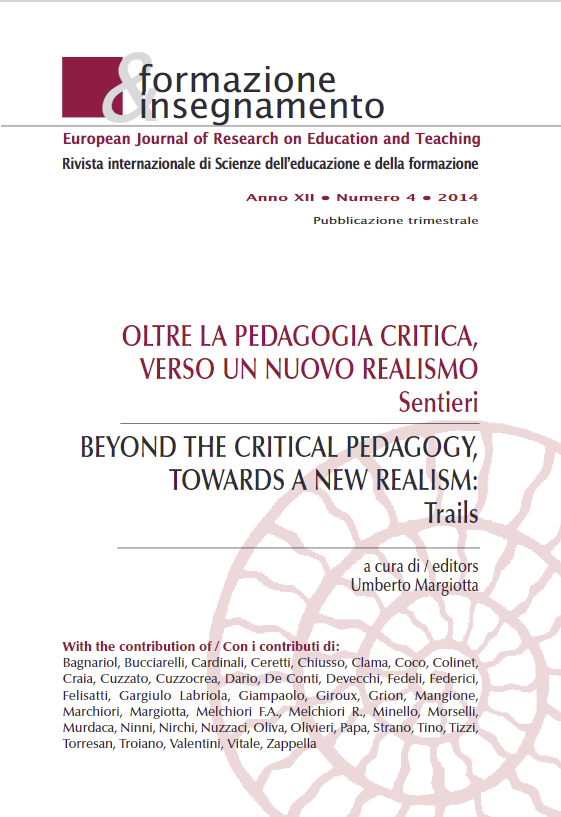 Downloads
How to Cite
Torresan, P. (2014). Different definitions of the concept of "improvisation" in language teaching: expertise, production and technique. Formazione & Insegnamento, 12(4), 207–224. Retrieved from https://ojs.pensamultimedia.it/index.php/siref/article/view/1622
License
Copyright (c) 2014 Paolo Torresan
This work is licensed under a Creative Commons Attribution 4.0 International License.
Formazione & insegnamento is distributed under Attribution 4.0 International (CC BY 4.0).
For further details, please refer to our Repository & Archiving Policy, as well as our Copyright & Licensing Terms.