Between nature and culture: For a pedagogical ontological turn in pedagogy
Keywords:
Ontological turn, Ecosophia, Ecological transition, Nature-Culture, Multinaturalism
Abstract
Drawing on posthumanist theories, the present paper provides a critiques of the nature/culture dichotomy by discussing the so-called ontological turn, which represents a milestone in anthropological debate. In particular, it is argued that non-Western ecosophical knowledge allows to reframe the issue of ecological transition; one of the main challenges for contemporary societies. Within this process, pedagogy plays a central role in order to re-think and re-act the humans and non-humans' relationship from a decolonial perspective.
References
Angus, T., Cook, I., & Evans, J. (2001). A Manifesto for Cyborg Pedagogy? International Research in Geographical and Environmental Education, 10(2), 195 - 201. https://doi.org/10.1080/10382040108667439
Århem, K. (1993). Ecosofía makuna. In F. Correa, La selva humanizada: Ecologia alternativa en el tròpico humedo colombiano. Bogota: Instituto Colombiano de Antropologia, Fondo FEN Colombia, Fondo Editoria CEREC.
Barone, P., Ferrante, A., & Sartori, D. (Eds.). (2014). Formazione e postumanesimo. Sentieri pedagogici nell'età della tecnica. Milano: Raffaello Cortina Editore.
Braidotti, R. (2014). Il postumano. La vita oltre l'individuo, oltre la specie, oltre la morte. (A. Balzano, Trans.) Roma: DeriveApprodi.
Brigati, R. (2019). La filosofia della svolta ontologica dell'antropologia contemporanea. In V. Gamberi, & R. Brigati (Eds.), Metamorfosi: la svolta ontologica in antropologia (pp. 299-252). Macerata: Quodlibet.
Capucci, P. L. (Ed.). (1994). Il corpo tecnologo. L'influenza delle tecnologie sul corpo e sulle sue facoltà. Bologna: Baskerville.
Caronia, A. (1996). Il corpo virtuale, Dal corpo robotizzato al corpo disseminato nelle reti. Padova: Muzzio Editore.
Chakrabarty, D. (2009). The climate of history: four theses. Critical Inquiry, 35(2), 97 - 112. doi:10.1086/596640
Danowski, D., & Viveiros de Castro, E. (2017). Esiste un mondo a venire? Saggio sulle paure della fine. Milano: Nottetempo.
De Fazio, G., Lévano, P. F., & Sorrentino, I. (2019). Prontuario di ecosofia. Bibliografie metastabili. Senigallia: Ventura edizioni.
Donato, A. (2020). Per una decolonizzazione pedagogica del paesaggio: la metamorfosi del corpo. Studium Educationis, 1(febbraio 2020). https://doi.org/10.7346/SE-012020-05
Escobar, A. (2010). Postconstructivist political ecologies. In M. Redclift, & G. Woodgate (Eds.), International Handbook of Environmental Sociology. Second Edition (pp. 91-105). Cheltenham: Elgar.
Fenwick, T., & Edwards, R. (2010). Actor-Network Theory and Education. London: Routledge.
Ferrante, A. (2017). Postumano e pratiche di contaminazione: saperi, soggetti, materialità. In A. Ferrante, & J. Orsenigo (Eds.), Dialoghi sul postumano (pp. 13 - 29). Milano - Udine: Mimesis Edizioni.
Gamberi, V. (2019). Metamorfosi: decolonizzzazione vera o apparente? In V. Gamberi, & R. Brigati (Eds.), Metamorfosi: la svolta ontologica in antropologia (pp. 11 - 52). Macerata: Quodlibet.
Gamberi, V., & Brigati, R. (Eds.). (2019). Metamorfosi: la svolta ontologica in antropologia. Macerata: Quodlibet.
Goodbody, A., & Rigby, K. (Eds.). (2011). Ecocritical Theory New European Perspectives. Charlottesville: University of Virginia Press.
Haraway, D. (1995). Manifesto Cyborg. Donne, tecnologie e biopolitiche del corpo. (L. Borghi, Trans.) Milano: Feltrinelli.
Hayles, K. (1999). How We Became Posthuman: Virtual Bodies in Cybernetics, Literature, and Informatics. Chicago: The University of Chicago Press.
Henare, A., Holbraad, M., & Wastell, S. (Eds.). (2007). Thinking through things: theorising artefacts ethnographically. Londra: Routledge.
Ingold, T. (2014). Caccia e raccolta come modo di percepire l'ambiente. In S. Consigliere (Ed.), Mondi multipli I. Oltre la grande ripartizione (pp. 89 - 128). Napoli: Kaiak Edizioni.
Ingold, T. (2019). Antropologia come educazione. (L. Donat, Trans.) Bologna: La linea.
Latour, B. (2018). Tracciare la rotta. Come orientarsi in politica. Milano: Cortina.
Latour, B. (2019). Essere di questa terra. Guerra e pace al tempo dei conflitti ecologici. (N. Manghi, Ed.) Torino: Rosenberg & Sellier.
Leonardi, E., & Barbero, A. (2017). Introduzione. Il sintomo-Antropocene. In J. Moore, A. Barbero, & E. Leonardi (Eds.), Antropocene o capitalocene?: scenari di ecologia-mondo nella crisi planetaria (pp. 7 - 25). Verona: Ombre corte.
Mariani, A. (2003). La pedagogia sotto analisi. Modelli di filosofa critica dell' educazìone in Francia (1960-1980). Milano: Unicopli.
Pinto Minerva, F., & Gallelli, R. (2004). Pedagogia e post-umano. Ibridazioni identitarie e frontiere del possibile. Roma: Carrocci.
Reichel-Dolmatoff, G. (1976). Cosmology as Ecological Analysis: A View from the Rain Forest. Man, 11(3), 307 – 318. https://doi.org/10.2307/2800273
Renault, M. (2013). Fanon e la decolonizzazione del sapere. Teorie in viaggio nella situazione (post) coloniale. In M. Mellino (Ed.), Fanon postcolonìale. I dannati della terra oggi. Verona: Ombre corte.
Ridington, R. (1982). Technology, world view, and adaptive strategy in a northern hunting society. Canadian Review of Sociology and Anthropology(19), 469-481.
Salvarani, B. (2008). Se questo è l'uomo. In A. Tosolini (Ed.), Il post-umano è qui. Educare nel tempo del cambiamento. Bologna: EMI.
Sholte, B. (1984). Reason and Culture: The Universal and the Particular Revisited: Rationality and Relativism. American Anthropologist, 86(4), 960-965. https://doi.org/10.1525/aa.1984.86.4.02a00090
Sørensen, E. (2009). The Materiality of Learning: Technology and Knowledge in Educational Practice. Cambridge-New York: Cambridge University Press.
Stengers, I. (2009). Au temps des catastrophes. Résister à la barbarie qui vient. Paris: Les Empêcheurs de penser en rond/La Découverte.
Vignola, P. (2016). Antropocene e geofilosofia. Una lettura selvaggia della Differenza. La Deleuziana , 4.
Viteritti, A. (2017). La forza delle relazioni tra umani e materialità nei processi educativi . In A. Ferrante, & J. Orsenigo, Dialoghi sul Postumano. Pedagogia, filosofia e scienza (pp. 147-163). Milano-Udine: Mimesis.
Viveiros de Castro, E. (2014). I pronomi cosmologici e il prospettivismo amerindio . In S. Consigliere (Ed.), Mondi multipli II. Lo splendore dei mondi (pp. 19-50). Napoli: Kaiak Edizioni.
Viveiros de Castro, E. (2017). Metafisiche cannibali. Verona: Ombre corte.
Viveiros de Castro, E. (2019a). Prospettivismo cosmologico in Amazzonia e altrove. Macerata: Quodlibet.
Viveiros de Castro, E. (2019b). Il nativo relativo. In R. Brigati , & V. Gamberi, Metamorfosi: la svolta ontologica in antropologia. Macerata: Quodlibet.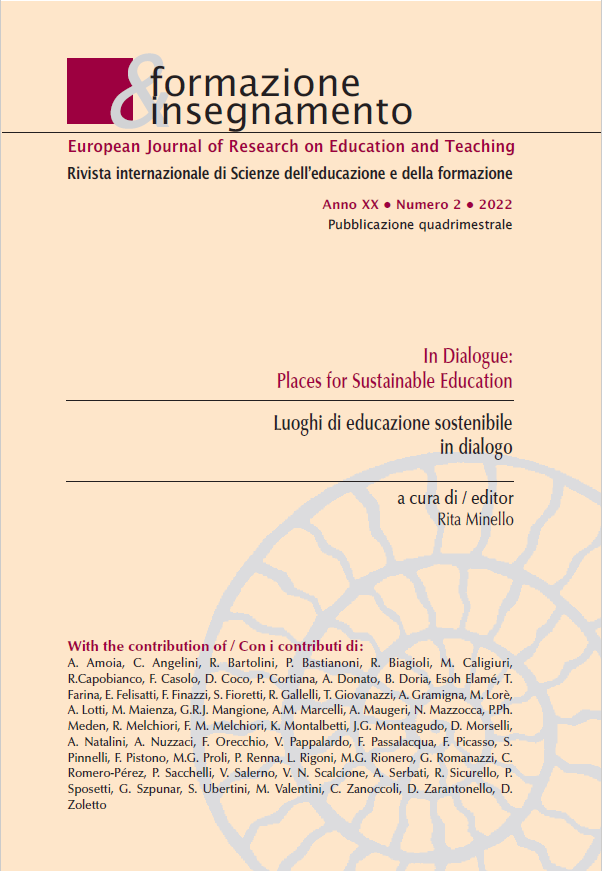 Downloads
License
Copyright (c) 2022 Antonio Donato
This work is licensed under a Creative Commons Attribution 4.0 International License.
Authors that publish in Formazione & insegnamento accept the following conditions:
Authors keep their copy rights for their work and give the journal only the right of first publication and distribution of it. Concurrently, the work is licensed under Attribution 4.0 International (CC BY 4.0), which allows others to share their work porovided they attribute it to their original author and acknowledge its first appearance in this journal.
Authors might engage in other licensing agreements, provided such agreements are 

non exclusive

regarding the distribution of the published work (e.g., place a copy in a physical institutional repository, or publish it in a book). In this case, the authors must acknowledge in the new version of the work that it was first published on this journal.
Authors may distribute their accepted manuscripts (pre-print) online (e.g., online repositories, personal website) during the publication process. This is allowed because it is the source of informed exchange with peers and increases the value of the published work. Please be aware that the distribution and dissemination to peer and through archives does not constitute a "publication" in a volume belonging to a series (ISSN): Formazione & insegnamento publishes previously unpublished works.