"Inclusive educational project: motor theatrical performance"
Keywords:
Education, Inclusion, Theatre, Sport, School
Abstract
The interaction between theatre, sport and teaching can contribute to the construction of a school reality able to cultivate talents and form citizens of the future aware, emotionally mature and able to relate with every kind of diversity of which existence is made. This contribution stems from the intention to implement this complex interdisciplinary dialogue. The object of this action-research is the role that theatre can have in the educational process, not only as a subject of study, but especially as a valid educational tool, capable of enhancing both teaching and learning. Theatre is also the "place of no judgment" foremost: the break of life's balance brought on stage leads to a catharsis that removes any prejudice. Therefore it's an excellent inclusive tool to acquire self-awareness and knowledge of differences that must not make us distant, but closer in our uniqueness. Then the analysis leads to the definition of the motor theatrical performance, a practice that combines expressive activity with sporting activity, according to what the ancient Latin wisdom handed down in the proverb «mens sana in corpore sano». A lot of attention is paid to the indication of theatrical/motor activities that can be considered as extracurricular workshops or it can be inserted into the everyday school to make it richer and more stimulating.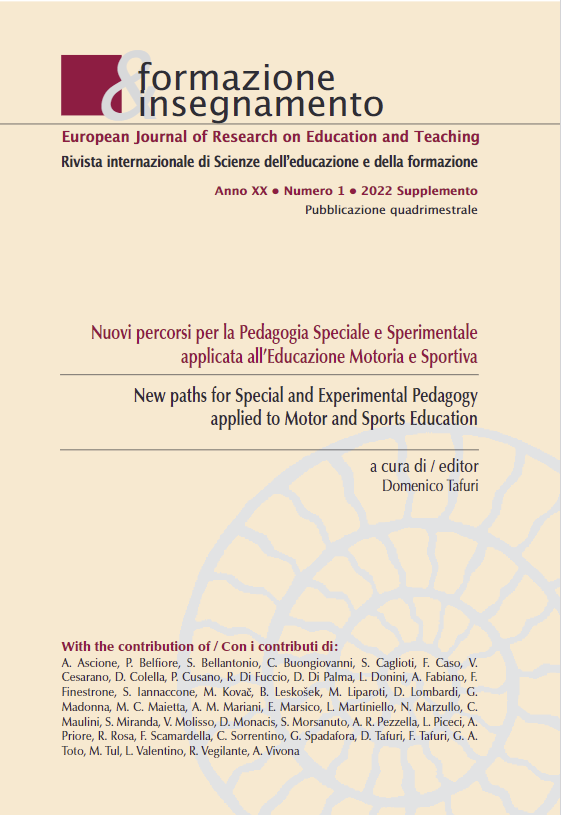 Downloads
How to Cite
Buongiovanni, C., & Pezzella, A. R. (2022). "Inclusive educational project: motor theatrical performance". Formazione & Insegnamento, 20(1 Suppl.), 252–259. https://doi.org/10.7346/-feis-XX-01-22_22
License
Copyright (c) 2022 Pensa MultiMedia
This work is licensed under a Creative Commons Attribution 4.0 International License.
Formazione & insegnamento is distributed under Attribution 4.0 International (CC BY 4.0).
For further details, please refer to our Repository & Archiving Policy, as well as our Copyright & Licensing Terms.