Small Schools Notebooks: Documenting the educational experience in schools of isolated territories
Abstract
Because of low enrollments, more than 8,000 schools risk being shut down across the Italian national territory. Multi-age classes characterize these schools, which are usually located in geographically remote areas. They are hard-to-reach and they suffer from increased isolation. Even the faculty staff regards them as temporary workplaces, before moving on to other destinations. In such context, which result in governance and didactic challenges, it is rather hard to "capitalize" knowledge acquired by teachers who tackled said issues. Since 2017, Indire founded the Small Schools Movement with the purpose of supporting teachers' and school managers' professional endeavors. Within the frame of this project, some strategies of narrative inquiry were used to have teachers' practical knowledge resurface. Additionally, some feedback materials are examined, such as the Small School Notebooks, which are consistent with the above methodologies. This article outlines the theoretical assumptions behind this work and how they were implemented in a specific case.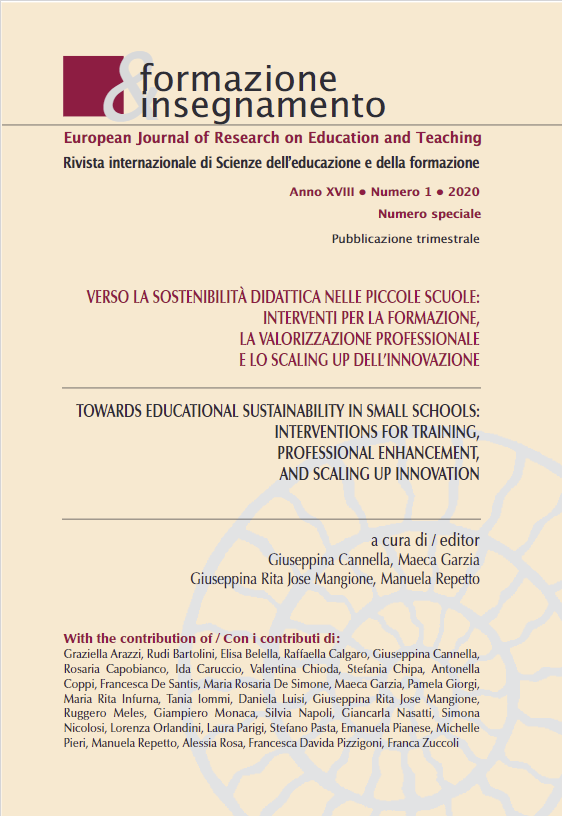 Downloads
How to Cite
Parigi, L., De Santis, F., Bartolini, R., & Iommi, T. (2020). Small Schools Notebooks: Documenting the educational experience in schools of isolated territories. Formazione & Insegnamento, 18(1 Special Issue), 43–57. https://doi.org/10.7346/-feis-XVIII-01-20_04
License
Copyright (c) 2020 Pensa MultiMedia
This work is licensed under a Creative Commons Attribution 4.0 International License.
Formazione & insegnamento is distributed under Attribution 4.0 International (CC BY 4.0).
For further details, please refer to our Repository & Archiving Policy, as well as our Copyright & Licensing Terms.