Giftedness and teaching strategies
Abstract
Ensuring ethical, cognitive and social dignity to "individuality", intended as an "expression of uniqueness and singularity", is a great challenge. A high cognitive ability, the essence of a special individual, becomes an obstacle to overcome in a conventional society. Paradoxically, a high intellectual level can become an impediment and a problem for the gifted person and at the same time it determines a "sense of not belonging" and inadequacy. Gifted people may be vulnerable, so to overcome this problem it is necessary to use an appropriate parental style, a suitable teaching and counseling method in order to better develop their "cognitive heritage". It is important that giftedness is seen as a resource and an opportunity that the society has the duty to invest in, in order to guarantee the individual well-being but also to safeguard the country's future.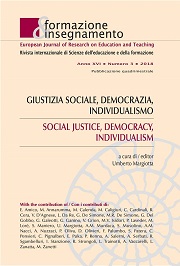 Downloads
How to Cite
De Simone, G., & Annarumma, M. (2018). Giftedness and teaching strategies. Formazione & Insegnamento, 16(3), 29–38. Retrieved from https://ojs.pensamultimedia.it/index.php/siref/article/view/3093
License
Copyright (c) 2019 FORMAZIONE & INSEGNAMENTO. European Journal of Research on Education and Teaching
This work is licensed under a Creative Commons Attribution 4.0 International License.
Formazione & insegnamento is distributed under Attribution 4.0 International (CC BY 4.0).
For further details, please refer to our Repository & Archiving Policy, as well as our Copyright & Licensing Terms.