The practice's distribution in learning a new motor act in preteen age
Abstract
The purpose of the present study was to evaluate if, and to what extent, in elementary school children, different methods of timing distribution of training sessions are able to significantly affect the learning of a new motor task. Almost 1,000 children, aged between 6 and 10 years, participated the  study. The children had to learn an oculo-manual coordination task, completely new to them, using different ways of practice's distributing (concentrated or distributed).
The children were divided into three groups (A, B and C) and each group was subdivided into five sub-groups, correponding to the five classes of the first grade schools. The training involved 120 total launches to be carried out in a week, distributed as follows: group A performed a training distributed
over 6 consecutive days; b) group B, played a training distributed in 3 alternating days (Monday, Wednesday, Friday), group C, carried out a training distributed over 3 consecutive days (Monday, Tuesday, Wednesday). Seven days after the end of the acquisition period each group repeated a session of 20 launches, divided into blocks of 10 with 5 minutes of recovery.
It has been observed that, in terms of improvement, the learning of a new task, performed using the concentrated practice, appears less advantageous than that performed with distributed practice.
However, what is learned with concentrated practice seems to last longer than what is learned with distributed practice. It has also been seen that the learning speed in males is greater than in females.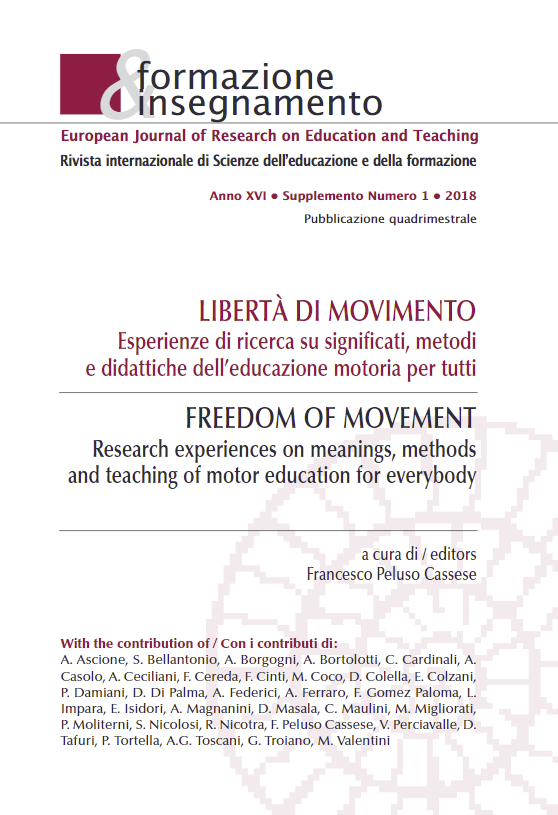 Downloads
How to Cite
Perciavalle, V., Nicotra, R., & Coco, M. (2018). The practice's distribution in learning a new motor act in preteen age. Formazione & Insegnamento, 16(1 Suppl.), 61–72. Retrieved from https://ojs.pensamultimedia.it/index.php/siref/article/view/2762
License
Copyright (c) 2018 Valentina Perciavalle, Rita Nicotra, Marinella Coco
This work is licensed under a Creative Commons Attribution 4.0 International License.
Formazione & insegnamento is distributed under Attribution 4.0 International (CC BY 4.0).
For further details, please refer to our Repository & Archiving Policy, as well as our Copyright & Licensing Terms.