The teacher en motive in a new direction and generative sense holistic trainers, in the school of the 21st century
Abstract
This study is a reflection on the positive learning environment in class. The motivational framework explains how positive student–teacher and student–peer relationships are sustained in the classroom, and strategies for creating solutions to improve relationships. The motivation prepares the pupil for mental creation and a precise rhythm. Positive Learning Environment can mean the place of learning,
and places vary widely, or classroom/learning setting arrangements. Imagery, groupings, lighting, air quality and temperature, room size, number of students, the use of audio-visual materials, décor and such all influence learning. They can be direct and indirect influences on learning. The students sense of well-being, belonging, and safety has an impact influence as does reward for learning and mutual respect. Learning environment features and qualities that induce negative feelings and attitudes will inhibit learning. This positive condition and the lateral thinking help the children, thanks to a state of general well-being, to face problems and negative situations inside and outside the classroom. The
teacher and the students have to face the difficulty together, changing their perspectives. They learn together how to look at a challenge from different angles. To develop these skills they are free to explore and manipulate, the learning materials. In the school of the 21st century a favorable trigger becomes
a moment shared by all members of the class and by the community itself. The teacher supports creating a warm classroom environment and an atmosphere of mutual respect, where students feel relaxed in asking questions and expressing their thoughts and feelings. This can help develop a strong
sense of community and encourage positive interactions and cooperative learning for students with and without disabilities. Together Teacher and Learner can go beyond their boundaries and make a journey toward a new perceptiveness of knowledge through the body. The goal of teacher immediacy
is closeness, which means bringing the student closer to the subject and the learning of that subject.
A positive learning environment is a set of classroom conditions including emotional states of the teacher and students that make students feel positive about the subject, learning it and being in the class so they feel better and are better motivated to achieve more learning.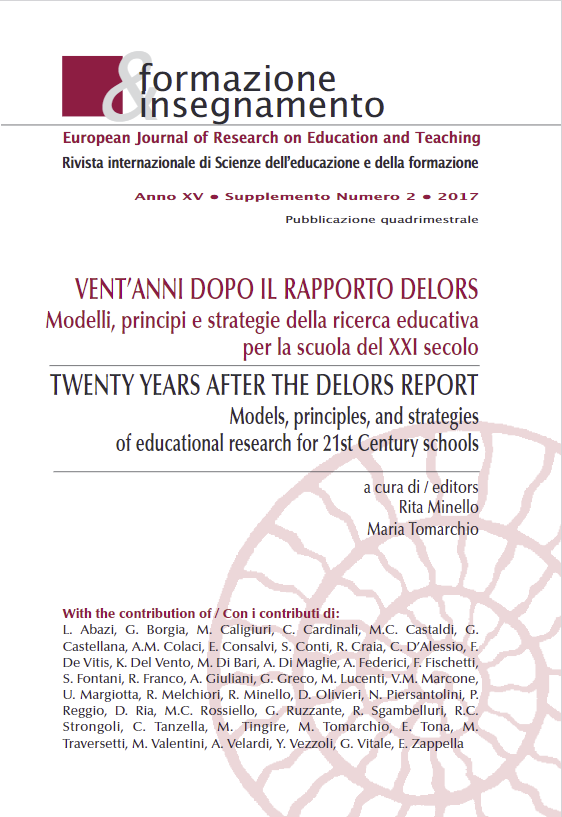 Downloads
How to Cite
Del Vento, K. (2023). The teacher en motive in a new direction and generative sense holistic trainers, in the school of the 21st century. Formazione & Insegnamento, 15(2 Suppl.), 327–332. Retrieved from https://ojs.pensamultimedia.it/index.php/siref/article/view/2606
License
Copyright (c) 2023 Katia Del Vento
This work is licensed under a Creative Commons Attribution 4.0 International License.
Formazione & insegnamento is distributed under Attribution 4.0 International (CC BY 4.0).
For further details, please refer to our Repository & Archiving Policy, as well as our Copyright & Licensing Terms.