Learning to live together and learning to live with others. Citizen Education at school. The Regional Youth Parliament in Puglia
Abstract
This study starts from legal acts where school is defined the natural place
we can learn the best way to live together (Delors, 1996) and the real opportunities
students have to reach this aim. There are so many laws dealing
with the importance of educate to live together, but it was difficult to
demonstrate their real implementation. The highlighting achievements and
experiences on the themes of Citizenship and education led by a PHD candidate
in "Training Dynamics and policy education" at University of Bari,
have made possible to deepen a significative experience realized in Puglia:
the Regional Youth Parliament. Sixteen years old and older students are
elected and can be active citizens discussing important issues. They can
know places, people, understand rules and, last but not least, they have to
elaborate a bill to be submitted to Regional Parliament.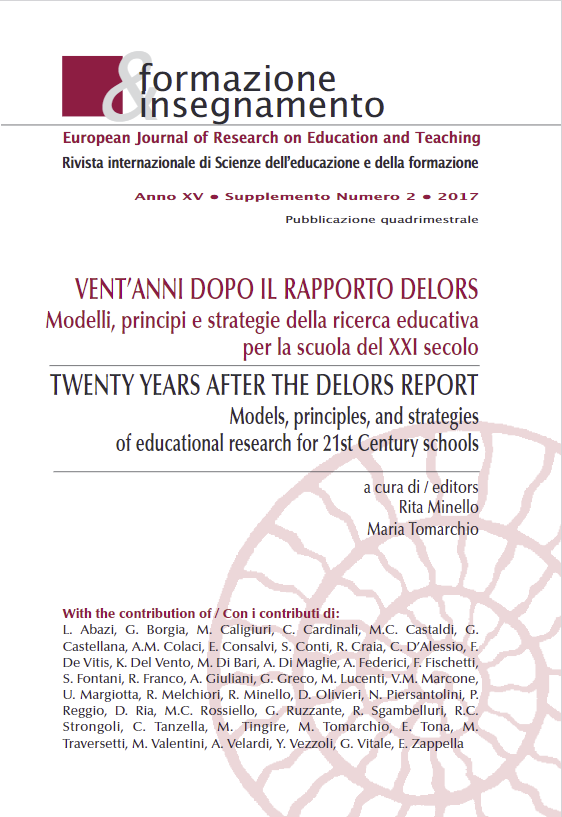 Downloads
How to Cite
Tanzella, C. (2017). Learning to live together and learning to live with others. Citizen Education at school. The Regional Youth Parliament in Puglia. Formazione & Insegnamento, 15(2 Suppl.), 263–275. Retrieved from https://ojs.pensamultimedia.it/index.php/siref/article/view/2600
License
Copyright (c) 2017 Carmela Tanzella
This work is licensed under a Creative Commons Attribution 4.0 International License.
Formazione & insegnamento is distributed under Attribution 4.0 International (CC BY 4.0).
For further details, please refer to our Repository & Archiving Policy, as well as our Copyright & Licensing Terms.