Meanings, experiences and narratives of the body in disability
Keywords:
Disability, Corporeality, Identity, Narrative, Learning
Abstract
Attention to the body dimension has assumed significant scientific value in the context of theoretical reflection and educational practices aimed at people with disabilities, having now recognized the role it plays in the structuring of existence. The educational purpose that is emerging is clearly that of providing the tools to search for a personal sense of the body that goes beyond any form of objectivity, offering a way to feel at home in and with one's body. Preserving the individuality of the body refers not so much to a way of interpreting it as an objective fact or space, but rather as a space of life, a psychological place made up of experiences, feelings and relationships. In this framework, education to corporeality can be understood as a form of familiarization with the body, its limitations, its potentialities and its "words", and also an exercise in the management of those transformations of the body that can introducing important changes in the relationship between the different parts of the Self and with others. This challenge can only be achieved through the narrative device and by developing learning experiences that take shape starting from the autobiographies of the body. The narrative, in supporting the individual in the difficult task of appropriating his own body and referring them to his own identity under construction, is configured as a key educational space in the field of disability.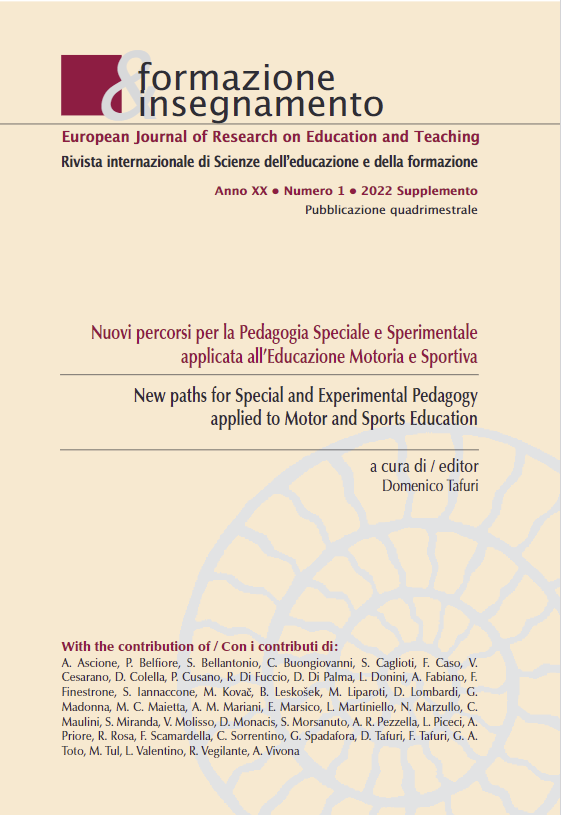 Downloads
How to Cite
Priore, A. (2022). Meanings, experiences and narratives of the body in disability. Formazione & Insegnamento, 20(1 Suppl.), 314–321. https://doi.org/10.7346/-feis-XX-01-22_28
License
Copyright (c) 2022 Pensa MultiMedia
This work is licensed under a Creative Commons Attribution 4.0 International License.
Formazione & insegnamento is distributed under Attribution 4.0 International (CC BY 4.0).
For further details, please refer to our Repository & Archiving Policy, as well as our Copyright & Licensing Terms.