Learning to be human through and for life-cycle: the key-role of art
Abstract
Present paper aims to propose a reflection on the key-role that the aesthetic experience takes on in education, especially in view of a pedagogical paradigm concerned with the growth of the whole person: body - mind - heart. Education – being co-extensive with life – should represent the deci-sive path by which human beings learn to be and to "inter-be". In this view, educational action finds its meaning in the promotion of vitalizing and con-structive forces, to unfold inner personal potential and realize fulfillment. The first part focuses on the concept of lifelong, lifedeep and lifewide edu-cation, taking into consideration the idea of childhood as a condition of continuous experience of new beginnings and wonder, on the one hand, and the holistic paradigm for a pronounced validation of ethical-aesthetical ed-ucation, on the other. The second part devotes specific attention on the keyrole of education through art, from childhood and the entire span of life, with a focus for art having its own method of inquiry over human qualities to be developed and expressed, on the one hand, and for the "architecture" of effective educational experiences through it, on the other. In this regard, space will be also given to the description of the project "Golden Apple" at the University of the Sacred Heart of Tokyo.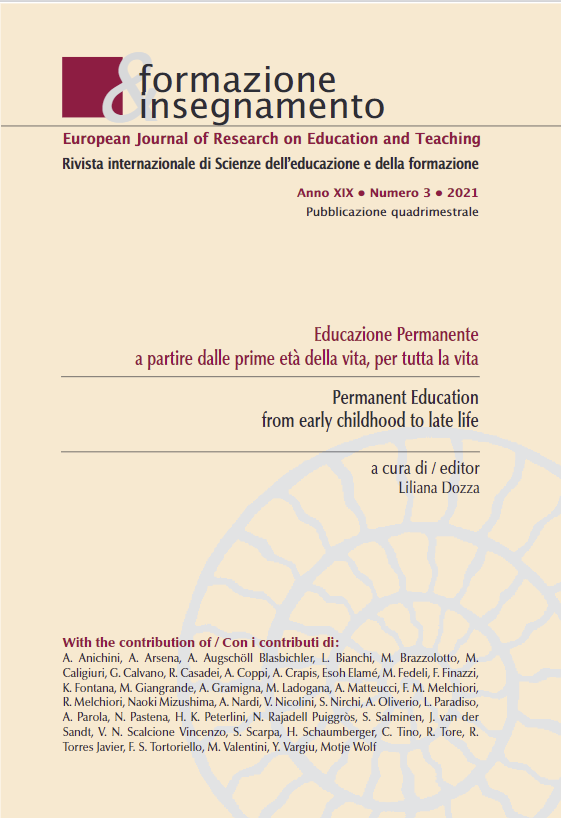 Downloads
How to Cite
Casadei , R. ., & Mizushima , N. . (2021). Learning to be human through and for life-cycle: the key-role of art . Formazione & Insegnamento, 19(3), 013–027. https://doi.org/10.7346/-fei-XIX-03-21_02
License
Copyright (c) 2022 Pensa MultiMedia
This work is licensed under a Creative Commons Attribution 4.0 International License.
Formazione & insegnamento is distributed under Attribution 4.0 International (CC BY 4.0).
For further details, please refer to our Repository & Archiving Policy, as well as our Copyright & Licensing Terms.