Lifelong and professional learning: the potential of online education
Abstract
What can help people "adapt" to changes and new developments in society in a normal and functional way? We believe that one of the fundamental tools to achieve this goal is lifelong learning which, from a diachronic-formative perspective, becomes the key to a consolidated learning system that has the characteristics of constancy and duration and that is especially suited to every type of educational context (formal, non-formal and informal), thanks in particular to the potential of online education. In this article we try to account for these changes by highlighting some premises that outline a (new) educational orientation that develops throughout life and in every context, starting from the scholastic up to the purely professional one.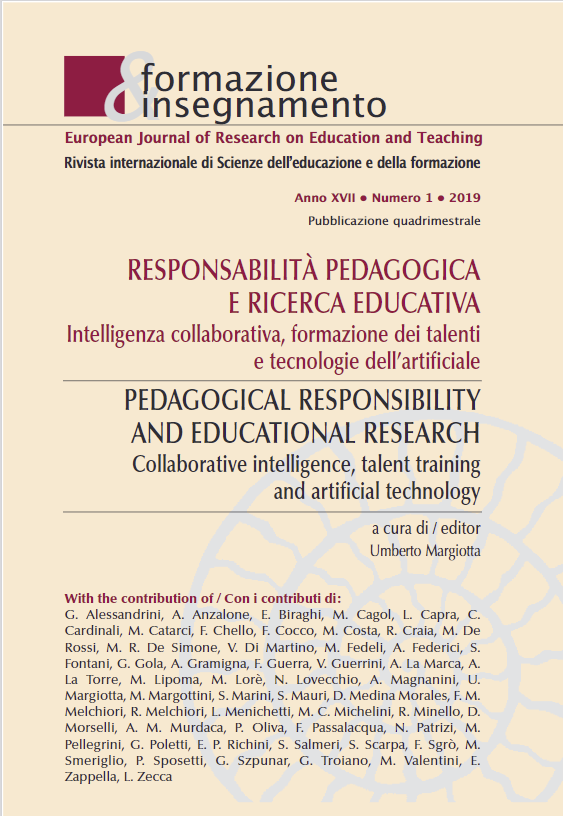 Downloads
How to Cite
Smeriglio, M., & Patrizi, N. (2019). Lifelong and professional learning: the potential of online education. Formazione & Insegnamento, 17(1), 209–216. https://doi.org/10.7346/-fei-XVII-01-19_18
License
Copyright (c) 2019 Pensa MultiMedia
This work is licensed under a Creative Commons Attribution 4.0 International License.
Formazione & insegnamento is distributed under Attribution 4.0 International (CC BY 4.0).
For further details, please refer to our Repository & Archiving Policy, as well as our Copyright & Licensing Terms.