Higher education and educational success: pedagogical perspectives
Abstract
According to international policy goal to raise to 40% the rate of young
graduates by 2020 (COM, 2010; ET 2020), it is necessary to rethink about theoretical options on educational success. Although it is often associated, if
not overlapping, to good performance, it embodies a horizon of commitment
that goes beyond academic achievement.
It could be argue that educational success could be a strategic goal to
achieve full personal development and for the whole society because it requires
a personal, cooperative and collaborative approach that refers to a
plural network of actors. The pursuit of educational success involves the activation of a governance strategy. This connection is fully part in the enhancement of the activities that show the third mission of universities.
It could be assumed the importance of the research and studies about educational activities for the promotion of educational success with attention
to professionals involved.
The paper aims to discuss the various meanings of educational success and
to propose a possible key to original interpretation and proactive.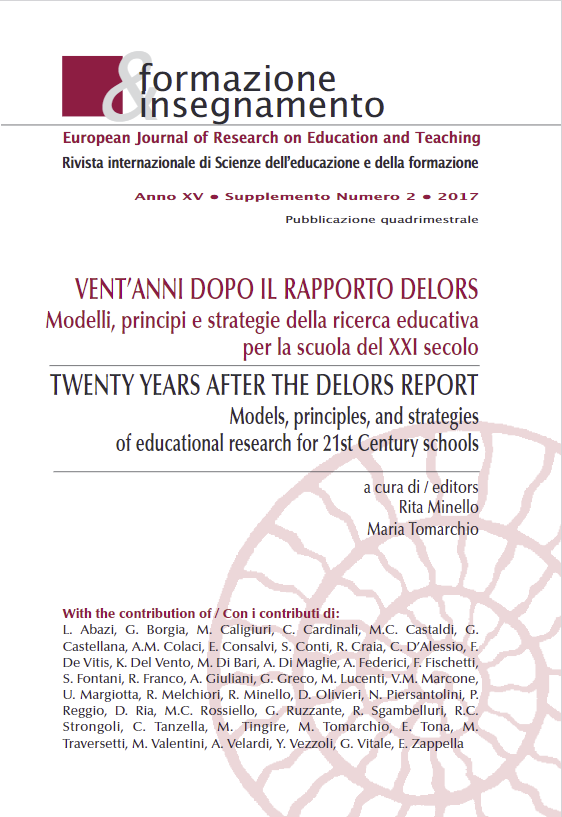 Downloads
How to Cite
Conti, S. (2017). Higher education and educational success: pedagogical perspectives. Formazione & Insegnamento, 15(2 Suppl.), 235–240. Retrieved from https://ojs.pensamultimedia.it/index.php/siref/article/view/2596
License
Copyright (c) 2017 Silvia Conti
This work is licensed under a Creative Commons Attribution 4.0 International License.
Formazione & insegnamento is distributed under Attribution 4.0 International (CC BY 4.0).
For further details, please refer to our Repository & Archiving Policy, as well as our Copyright & Licensing Terms.