La mediazione pedagogica della famiglia a favore dell'infanzia con impianto cocleare durante la pandemia
Abstract
Since 2007, the Center of Attention for Communication, Hearing and Language (CCAL-UCA), a dependency of the Department of Education Sciences of the Central American University José Simón Cañas – UCA (El Salvador), has provided speech therapy to children with cochlear implants due to hearing disability. From March 2020, all therapeutic and educational processes faced the need of modifying from a face-to-face modality to a distance approach due to the global COVID-19 pandemic. The new strategy consisted of planning an intervention proposal which could be implemented with the pedagogical mediation of families, taking into account that the majority of cochlear implant users are groups with limited economic resources, who live in vulnerable
areas at social risk. The qualitative research, through three case-study, analyzes how the pedagogical mediation of families of children with cochlear implants has been effective in the therapeutic care offered by CCAL-UCA. The results underline the importance of building a model of therapeutic care with pedagogical mediation according to the diversity of emergency circumstances; to carry out the evaluation of the activities taking into account both the family context and the childhood; to train families in language development strategies and to strengthen the
research process in these same directions.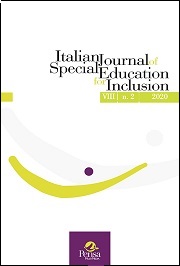 ##submission.downloads##
Sezione
III. ESITI DI RICERCA (a. ricerca qualitativa e quantitativa; b. Strumenti e metodologie)