La pedagogia speciale tra sguardi filosofici e pratiche metodologiche: prospettive emancipatorie
Abstract
The evolution of the theoretical framework of special pedagogy has led to the definition of a complex
construct characterized by interdisciplinary intertwining, subject to theoretical interpretations
of different nature including the philosophical one. The adoption of an inclusive educational perspective
continues to require a reflection that is actually open to the suggestion of human rights,
as a pivot of inclusion. This vision finds correspondence in the thought of philosophers such as A.
Sen and M. Nussbaum who, through the capability approach, have provided a theoretical framework
that frames disability in the broader spectrum of human development. The contribution intends
to reflect on the possible and potential trajectories that the presented philosophical
perspectives can activate at a theoretical-methodological level: in particular, the approach of emancipatory
research will deepened towards its full legitimation in the research areas of special pedagogy.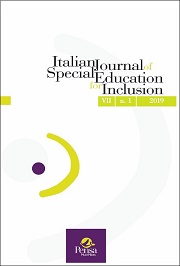 ##submission.downloads##