Princesses and wild girls.
New female identities in animated cinema for young viewers
Keywords:
Children's films, animated films, female representation, visual pedagogy, gender identity.
Abstract
Female imaginary has undergone strong transformations in recent decades, leading to more complex and multifaceted representations of female protagonism in children's narratives. Through stories that employ numerous narrative and artistic techniques, today's filmic characters are demonstrating an increasing adherence to socio-cultural changes as they are giving voice to diversified forms of identity in order to deconstruct those stereotypes that, historically, have categorised girls and women, both real and fictional. Starting from a theoretical basis grounded in Gender Pedagogy and Film Studies, the paper aims to offer a pedagogical overview of the portrayals presented in contemporary children's cinema, from the latest Disney heroines to the female protagonists of Hayao Miyazaki's works, up to independent cinema's products.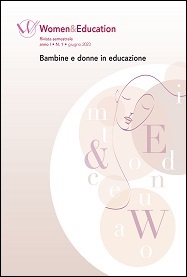 Downloads