Tra improvvisazione e inclusione: il profilo "polifonico" delle professionalità educative
Abstract
This article presents a conceptual dialogue emerged from empirical studies in which two pedagogical-
educational dimensions meet and speak to each other: the inclusive perspective and improvisation.
The aim is to reflect in a "polyphonical" way, upon the opportunity which emerges
from the contamination and hybridization between these two linguistic systems, their epistemological
scenarios and their conceptual universes. It is recognised that both have a "revolutionary"
potential to think about education in human development in a new way, both for pragmatic aspects
and pedagogical ones. This rationale polyphony delineates an "open profile" for educational professionals,
a profile emerged and elaborated upon the theoretical and dialogical analysis conducted
on data gathered in almost three years of research in the both inclusion and improvisation fields,
finally merged in a new pedagogical paradigm.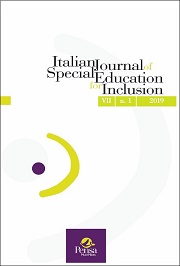 ##submission.downloads##