Anne of Green Gables. Female portraits of childhoods in the Lucy Maud Montgomery's coming-of-age novels
Keywords:
Children's literature, Family history, Orphanhood, Coming-of-age novel, Anne of Green Gables, Lucy Maud Montgomery
Abstract
In the late nineteenth and early twentieth centuries, Children's literature is represented by stories of brave orphans who had faced difficult and unfortunate lives with determination. For Anne Shirley, a little girl without a family, the same path occurs: the search for, construction and rebirth of the family are the main themes around which Lucy Maud Montgomery's coming-of-age novels are based (Moretti, 1986; Morgenstern, 1994; Meek, Watson, 2003; Papini, Fioretti, Spignoli, 2007; Bernardi, 2011; Cambi, 2011; Calabrese, 2013; Trisciuzzi, 2014). Being part of a family, feeling 'at home' (Beseghi, 1995; Cantatore, 2013, 2015; Vitta, 2008; Trisciuzzi, 2018; Zago, Callegari, Campagnaro, 2019),  appears to be the highest need and the centre of the plot itself, a story full of poetry, dreams, desires and joy that the little girl conveys to those around her, inside the pages of the novel, and to those who read her adventures, outside the book. Anne firmly assumes her role as a resilient orphan girl on a quest for a family nest (Trisciuzzi, 2018), a role she assumes and holds tightly in several books. Anne is an orphan girl who victoriously fights the orphan stereotype (Faeti, 2010, 2013). If her female colleagues are whiny or sad or perpetually in a state of crisis, she is an absolute vitalist. Anne savours every moment of existence, using all her senses and faculties to participate fully in this world and to derive joy, substance, light and colour from it. The female figures in Montgomery's novels, while representing the female condition of the time, make an original journey of growth through an innovative educational experience that reaches the present day.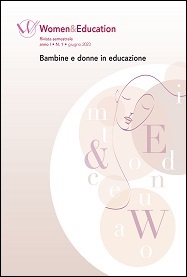 Downloads