Educare insieme? Il dibattito sulla coeducazione all'inizio del Novecento nelle pagine della rivista milanese La Coltura Popolare
Keywords:
history of girls' education; girls' rights; co-education; history of school; La Coltura Popolare
Abstract
The beginning of the twentieth century is a very significant period for the debate on women's education in Italy. The paper aims to reflect in particular on the issue of coeducation between males and females: in this regard, various and articulate positions were revealed, which examined the advantages and disadvantages of the relational dynamics between boys and girls, the possibility of equal or diversified curricula, and the professional opportunities offered. This paper analyses how the debate on this theme is present in the pages of the magazine La Coltura Popolare.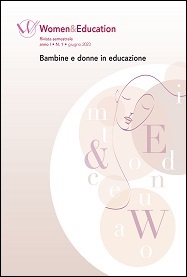 Downloads