"Affermare valori inclusivi": la prospettiva del Nuovo Index per l'inclusione
Abstract
The analysis of the national legislation regarding the evaluation of the quality of inclusion in Italian schools has highlighted the importance of the Index for inclusion as a theoretical and operational tool for inclusive development. Therefore, this article aims firstly to investigate the theoretical principles underlying this tool, with a specific focus on the centrality of values for effective inclusive
design. In addition, it presents the results of a research experience carried out using the Index for inclusion which identified the most significant indicators for the development of inclusive values
as stated by the participants and to collect their reflections with regard to the efficient or inefficient implementation of actions aimed to the development of these values.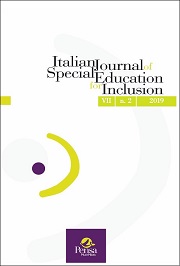 Sezione
III. ESITI DI RICERCA (a. ricerca qualitativa e quantitativa; b. Strumenti e metodologie)