«Let's talk about love, not just about sex». Sentimental education in the "Parents' Journal" by Ada Gobetti
Keywords:
education, sexuality, school, democracy, female emancipation.
Abstract
In 1959, Ada Prospero Gobetti founded the monthly magazine «Il Giornale dei Genitori» in Tourin, one the most interesting journals of those years from a pedagogical point of view for the relevance of the educational issues treated. Written in a understandable language even for those not involved in education, the magazine intends to address a vast, popular audience, with the aim both of freeing the discourse from specialistic jargon and of making it an instrument of cultural renewal of the society in a democratic-progressive perspective. One of the themes debated, first and foremost by Ada Gobetti, is the need for a renewed sexual education for the new generations, freed from the guilty taboos of the bourgeois tradition, re-established according to a new ethics of coexistence between the sexes.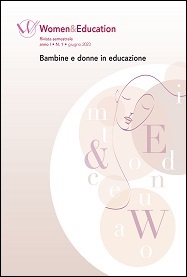 Downloads