They will be women: runaways, experimentations, difficulties and conflicts of teenage daughters of immigrants
Keywords:
adolescenza; identità; migrazione; seconde generazioni di immigrati; vulnerabilità
Abstract
L'adolescenza costituisce una fase al contempo delicata e stimolante nella vita delle ragazze. Sono gli anni in cui un progressivo, talvolta traumatico, distacco dall'influenza genitoriale porta all'abbandono del precedente io infantile e alla sperimentazione di nuovi modelli, prospettive, abitudini, comportamenti, sollecitati dalla frequentazione del gruppo dei pari. Essere adolescenti, per le ragazze figlie di immigrati, può risultare ulteriormente complesso, dal momento che alle vulnerabilità proprie di quell'età si aggiungono quelle derivanti dallo stress migratorio, dai processi di integrazione socio-culturale, dagli scontri generazionali interni alla famiglia, in certi casi dai vissuti drammatici che si sono lasciati alle spalle.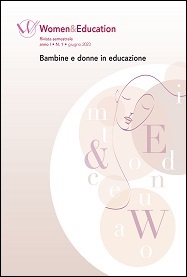 Downloads