First National Public Opinion Survey: Palestinians Knowledge and Understanding of Autism, 2014
Abstract
When considering the current status of inclusive education in the Palestinian Authority it is clear that a great deal needs to be done to improve not only the quality, but also the accessibility of education for children with special needs. Key initiatives developed from various conferences have helped to ensure improved training and awareness about inclusive education among all teachers,
parents and support staff. At the present time there are many challenges that need to be addressed for the inclusion policy in Palestine to be successfully implemented, particularly in view of the current way in which universities in Palestine are staffed and resourced and the type of links they have with the institutions who are offering services. This is why awareness initiatives are so important to build the bases for any future intervention, especially in the field of special and inclusive education, and in more specific way in the Autism field. This study was created to be a pilot study wherein for the first time in the PA (Palestinian Authority)
national research is done on the Palestinians knowledge and understanding of Autism. This study was implemented based on the recommendations of the Second National Conference on Autism,
which was held on the 2nd and 3rd of April 2012 in Bethlehem1.
The survey was developed by the researcher and was evaluated by four experts in the field of sociology and psychology. It includes eight demands and was sent to men and women, 18 years old
or older, randomly selected from throughout the Palestinian governorates. 718 people from twelve different regions responded to the questionnaire. The purpose of this study was to explore the
knowledge and attitudes about Autism spectrum disorders among the Palestinian populations.
Significant differences were found between individuals when it came to conclusions and results demonstrate an urgent need to increase awareness, influence policies and provide families with
effective strategies for dealing with their children. Equally urgent is the need to assist parents, policymakers and educators to understand the extent of the problem of lack of awareness about in
the Autism community and be prepared to intervene in the future.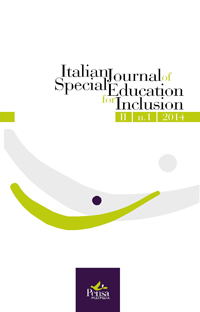 ##submission.downloads##
Sezione
III. ESITI DI RICERCA (a. ricerca qualitativa e quantitativa; b. Strumenti e metodologie)