LA VERGINE DEL MARE: MITOPOIESI E METAMORFOSI NEL GIOVANE QUASIMODO
Abstract
In Parole per Quasimodo ('Words for Quasimodo', 1974) Salvatore Pugliatti informed us of a notebook where, in 1918, he had transcribed and collected the lyrical works (some of which had already been published in local papers, while others were still undisclosed to the public) composed by his young friend between 1916 and 1917.
This notebook, which represents the sole piece of evidence dating back to those years, is proof of knowledge of the innermost – if primordial – 'Quasimodian' dynamics. Such dynamics indubitably include the mythopoetic urge that would later manifest itself in Acque e Terre ('Waters and Earths') and further go on to become – as has been observed – a constant in all of
the author's poetic phases.
Starting from young Quasimodo's unpublished La vergine del mare ('The virgin of the sea', 10 April 1917), this paper will primarily focus on the link between the author's writing and classical mythology in relation to the act of metamorphosis. The resulting roadmap will allow us to plot coordinates and detect isotopies through the diachronic lens of poetic macro-textual
analysis.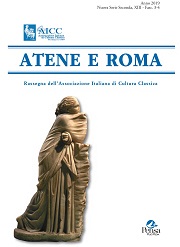 ##submission.downloads##