L'osservazione degli stili educativi padri-figli nella struttura penitenziaria
Abstract
This contribution is a part of a wider research project carried out in Prison of Milan-Opera (Italy),
whose aim was to orientate the interest on the role of father and on the most appropriate educational
strategies to keep alive the role and the parental bond. To achieve this objective, a multidisciplinary
methodological approach was used: the risks correlated to the detention status with
respect to the emotional relationship of an imprisoned father (personal experiences, sense of
frustration and/or guilt, feeling of failure/impotence, avoidance/denial of the problem, etc.);
the ways in which the individual prisoner attempts to decline his or her parental role; the possible
pedagogical support that education professionals can offer.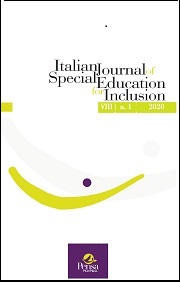 ##submission.downloads##
Sezione
III. ESITI DI RICERCA (a. ricerca qualitativa e quantitativa; b. Strumenti e metodologie)