Dis(tinte)-Abilità nell'Inglese per Educatori: una premessa - (per/mettete) quattro parole sui Bisogni Educativi Speciali
Abstract
The School Disadvantage Area should not be viewed solely as a matter of deficit: it is the result
of the complex interweaving of several physical/biological factors, and – more often than not –
of psychological and social issues. The school system should respond by providing adequate individual
as well as common strategic solutions taking into account both the personal and social
development of each student, and the role of teachers in a perspective of life-long learning and
intercultural identity. This paper seeks to explore some possibilities that teachers of English-asa-
second-language/foreign language have of coping with and even taking advantage of the peculiarities
of Special Educational Needs (SEN), using their lessons to build an inclusive environment
providing the help necessary to enable everyone to achieve common goals and develop skills.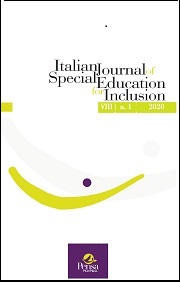 ##submission.downloads##
Sezione
I. RIFLESSIONE TEORICA (a. incontro con la storia; b. questioni epistemologiche)